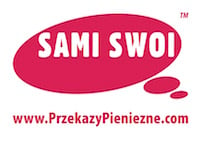 Sami Swoi Przekazy Pieniężne provides complete security of transactions, a competitive GBP exchange rate, simplicity of access to services and a variety of options to send money to Poland.
Sami Swoi provides various types of transfers from Standard transfer in two working days, to Live transfer in 10 minutes. If your recipient does not have a bank account, we give you the opportunity to send money to the recipient's hands – transfer to the post office.
With Sami Swoi, transfers can be made through one of authorized points or branches throughout the UK, via our phone line service +44 (0) 207 099 2441, via the website www.przekazypieniezne.com or our latest distribution channel a Mobile Application – you can transfer money faster and easier than ever before.
Years of experience in providing financial services to individual customers has made us design solutions that also support businesses. Sami Swoi Premium is dedicated to the business sector - it helps your company to compete more effectively on the Polish and UK markets.
Contact Member
Contact Details
Magdalena Lenart
📞 0207 099 2441
📍84 Uxbridge Road, London, W13 8RA
Location