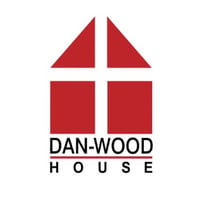 Dan-Wood House is a manufacturer and builder of timber frame houses in turn-key standard. Danwood houses are manufactured in the Danwood Plc factory in Bielsk Podlaski in Poland, where over 1400 houses are produced every year. Danwood Plc has around 2000 employees and is the biggest manufacturer of timber-frame turn-key houses in Poland. Most Dan-Wood houses are built in Germany, where it is one of the country's top suppliers of turn-key houses.
The Dan-Wood House brand is now also recognised throughout the European Union and other countries, with houses being built in Austria, Switzerland and the UK.
Dan-Wood houses combine superb quality of design and construction with exceptional value for money. An experienced and dedicated team of architects, designers and trades people use only the best quality materials to build a Dan-Wood house in only eight to 12 weeks.
Everything, from initial design through to interior decoration, is included in a fixed price, with exceptional thermal efficiency and ventilation – which comes as standard in every Dan-Wood house – ensuring comfortable, cost-effective and energy-efficient living.
A choice of over 60 standard designs can be adapted to suit every taste and lifestyle.
Contact Member
Contact Details
Piotr Szykula
📞+48512068093

📍1 Wilderhaugh Galashiels, TD1 1QJ
Location