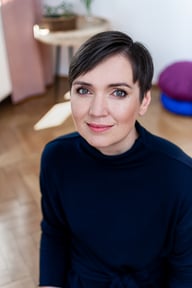 Psychologist, certified Mindfulness (MBSR - Mindfulness-Based Stress Reduction) and Compassion (MBCL - Mindfulness-Based Compassionate Living) teacher.

Certified Mind-Body Bridging trainer, ICC Coach and Mindfulness Life Coach. For last 4 years she has also been training in Acceptance and Commitment Therapy.

A graduate and participant of trainings conducted by the Oxford Mindfulness Center in the field of implementing mindfulness and compassion in the business environment.

She works with adults on a daily basis - both individually and in groups, teaching how to stop, listen to themselves, how to deal with stress, overload, intense emotions, thoughts, lowered self-esteem and building relationships.

She is also the author of a series of 9 books for children, "The Land of Mindfulness".
Special offer for WBL Members: 10% discount.
Contact Member
Contact Details
Agnieszka Pawlowska
📞07785749897
📍1 South Lodge, Circus Road, London, NW8 9ER
Location